Arashi Nagase (永瀬嵐 Nagase Arashi) is a student at Yazawa School for the Arts. He is a member of a band, in which he sings and plays guitar, and also a member of Paradise Kiss. He is also Miwako Sakurada's boyfriend and husband.
Biography
Edit
Arashi is the son of
Takeshi Nagase
(a rock star) and
Risa Kanzaki
(a housewife). His childhood friends are
Miwako Sakurada
and
Hiroyuki Tokumori
.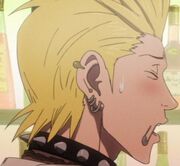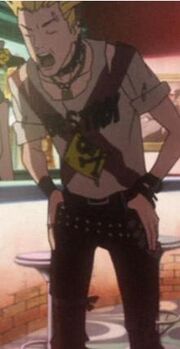 Physical Appearance
Edit
Arashi has outrageously spiked blonde hair and brown eyes. He has a tattoo on his right shoulder, as well as five piercings in each ear, one in his lip and one in his eyebrow. His outfits often seem to be punk and Visual Kei inspired.
Personality and traits
Edit
He can be rude and gets jealous very easily, but he is kind and sweet as well. He hates when Miwako keeps secrets from him. He is also a doting father and a loving husband.
Behind the scenes
Edit
Appearances
Edit
References
Edit